Attendance
At The Stonehenge School we believe there is no limit to any student's potential but recognise that this can only be achieved by excellent attendance. Attending school every day is essential to ensuring your son/daughter is to make the most of their ability and does well at school.
Research from the Department for Education found that for secondary school students with full attendance, they were 2.2 times more likely to achieve 5 GCSE grades 9-4 than those who missed 15-20% of school.
Attendance is recorded as a percentage of how much time a student has attended school. Every session they are absent whether it is an illness, a medical appointment or an authorised/unauthorised absence has a detrimental effect on their overall attendance percentage.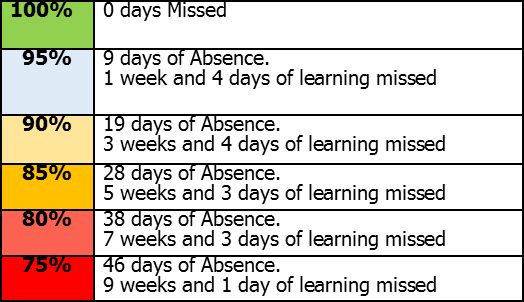 We monitor attendance closely and strive to work with our students, parents/carers and our Education Welfare Officer to ensure that excellent attendance is maintained.
How to report your child's absence
Parents/Carers are able to report a child's absences in one of the following ways –
We ask Parents/Carers to contact the school as early as possible on every day of absence and leave a message.
Medical Appointments
We understand that occasionally doctors and dentist appointments may have to be arranged during school time. All students arriving or leaving school outside normal registration times should sign in or out at Reception.
Please contact us in advance of your child's appointment to make us aware, this can be via the Absence Line, Insight or by email. If you receive an appointment letter we would appreciate a copy of this for your child's records.
Students will NOT be let out of school if we have not received parental/carer contact in advance.
Punctuality
The school day begins at 8.35am and all students are expected to be in school, in their tutor rooms by this time for registration. Once the register is called, it is closed and students arriving after this time are automatically late and must sign in at Reception.
Students who are repeatedly late to school are not only disrupting their own education but that of others and are not maximising their learning opportunities.
Holidays in School Time
We know that there are sometimes exceptional circumstances that make it unavoidable to take family holidays in term time. However it can be extremely damaging to students' progress; even one missed lesson can set a student back.
The law says that the Headteacher has the discretion to grant leave for this purpose if they judge the need exceptional
The things we take into account are –
An application in writing well in advance clearly stating the special reason for the request. Please use the Leave of Absence Request Form.
The attendance record of the student, which should exceed 95%
The progress of the student shown in recent reports
How near to GCSE courses or exams the student is (i.e Year 10 and 11). Leave of absence will not, in any case, be granted to a Year 11.
If you do need to take your child out of school during term time, please complete the Leave of Absence Request Form as early as is possible and return this to the Headteacher for consideration.
Attendance Documents
Guidance on Authorised Absence at Stonehenge 2023
Penalty Notices Leaflet – Wiltshire Council