BBC News Report 2015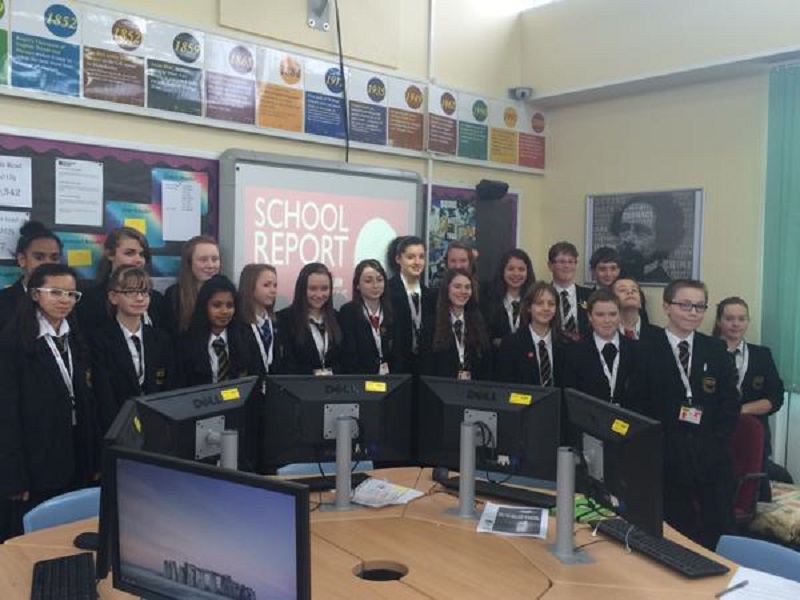 In preparation for this week's BBC School report some of our reporters interviewed local man Chris Scott on his diagnosis of Motor Neurone Disease. He talked in great honesty about the effects this was having on him physically and emotionally, and how the disease was likely to progress. Most importantly he reflected on how important it is to take one day at a time, and enjoy the moment.
Having already raised over £3000 for the MND charity by swimming a mile, he is currently training for a fundraising triathlon, which he has to complete using specialist equipment. 16 lengths of a pool, 11 miles on a recumbent gym bike and 3 miles on a treadmill will test him physically, but he is preparing every night. His justgive page can be found at: https://www.justgiving.com/TeamMND15/
Local man raises money for MNDA research
Reported by Phoebe and Jasmine
Motor Neurone Disease, or MND, is a rare condition which damages the nervous system. The condition affects muscle activity, so after a while simple actions like walking, speaking, swallowing, and even breathing, will become extremely difficult and eventually impossible.
These are some of the facts. It only affects 2 in 100,000 people in the UK every year, and it affects slightly more men than women. Most people who are diagnosed with it are over 40, although it can affect teenagers but that is extremely rare. In most cases it is caused by a faulty gene but in rare cases it can be inherited. Life expectancy is extremely short; normally between three to five years. Only in very, very rare cases does it last longer.
In 1963 theoretical physicist Stephen Hawking got a form of motor neurone disease called Amyotrophic Lateral Sclerosis or ALS. Just 21 years old, he was given just two years to live. Instead of giving up he got over a dozen honorary degrees. He is now a member of the national academy of science and one of the greatest theoretical physicists since Albert Einstein.
Chris Scott is an MND sufferer who was interviewed by Fraser and Liam. This from his Niece, Jasmine:
'My Uncle was diagnosed with MND last year, since his diagnoses he has been working at different challenges. Much like Stephen Hawking, he has not given up just because he was diagnosed. Last year he did a Mile swim to raise money for the charity MNDA (Motor Neurone Disease Association) and to renovate his house so it was accessible for him. He has spent this year training for the Durrington Triathalon, which he is also using to raise money for MNDA. Although the disease has already effected his left arm and is beginning to effect his right arm and leg, he still strives to achieve everything he can in the time he has left. He is strong and confident even though he has this disease. He is my hero, not only has he not given up but he has used this horrible thing as a positive. MND is a progressive disease and our family know in time he will no longer be with us, but until then we will help him achieve everything he can and help him do everything he wants to do.'
This is the link if you would like to donate to help Chris raise money for his triathlon: https://www.justgiving.com/TeamMND15/
Endangered Animals- Are numbers on the rise?
Written by Laura and Grace
While new species of animals are being found every day, especially in places like the Amazon rainforest, there are still many hundreds of animals that are still endangered, whether it be critically or mildly. Numbers are on the rise, though, with some species. An increase in wild tigers in India and pandas in China has been recorded.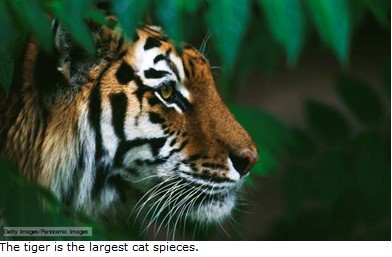 The population of wild tigers in India has risen from 1,706 in 2010 to 2,226 in 2014, a new report states. The rise in numbers is largely due to the better conservation efforts, such as stricter protection and sharper management. Even with this major achievement, however, poaching is still one of tiger's main threats in the wild.
Tigers are not the only endangered species on the rise. Pandas also are seeing an almost 17% increase. These black and white bears have increased in numbers thanks to conservations and financial support thanks to donations. Wild pandas are facing endangerment due to increasing deforestation in their local habitat and those under protection rely on human protection where they roam happily without danger. The Chinese government have taken action to put poaching of these endangered animals to a minimal as well as improving local water sources for the community.
It's not all good news, however. For some species the outlook still appears bleak.
10,000 species of animal become extinct every year due to many reasons such as poaching, waste products, or deforestation. Others see numbers decreasing due to natural causes such as natural selection, but human activity such as poaching and deforestation remain chief contributors to decreasing numbers.
Lions are very critically endangered; there are on 645 wild lions left in West and Central Africa and only 34 left in Nigeria. Lions have gone extinct in 25 countries in Africa and barely surviving in ten. Thirty years ago 200,000 wild lions lived on the plains in Africa. Cape lions became` extinct in 1865 due to poaching. Herders are killing lions as they pose a threat to their livestock. Lions come back for a second feed so herders often poison the carcass which will, in turn, kill the lion. Barbary lions are also another species of lion that have gone extinct in the wild. The last group of Barbary lions lived in the Atlas Mountains until the last one was killed in 1922.
Lemurs are one of the most threatened animals on Earth. 90 of the 101 known species of lemur on the island of Madagascar are threatened with extinction. One species of lemur has only 18 animals left in the wild. The forests that Lemurs live in are being cut down for logging which means that lemur habitats are being destroyed. Lemurs have also been hunted for their meat, something that rarely happened in past decades. Lemurs, with their important ecological and economic roles, are essential for Madagascar's ecotourism.
Eclipse Slips Into View
By Alissa and Reshma
On Friday 20 March 2015 , the whole of the UK will be treated to a partial eclipse of the Sun. It is one of four Solar Eclipses in 2015 ; the Moon will pass right in front of the Sun, blotting out up to 90% of its disc.
What happens in a Solar Eclipse?
A total solar eclipse happens when the moon comes between the Sun and the Earth and casts the darkest part of its shadow (the umbra) on Earth. The darkest point of the eclipse is almost as dark as night.
The Five Phases in a Solar Eclipse
1. Partial eclipse begins (first contact): The Moon's shadow starts becoming visible over the Sun's disc. The sun looks as if a bite has been taken from it.
2. Full eclipse begins (second contact): Almost the entire disc of the Sun is covered by the Moon. Observers in the path of the Moon's umbra may be able to see Baily's beads and the diamond ring effect.
3. Maximum eclipse or totality: The Moon completely covers the disc of the Sun. Only the Sun's corona is visible. This is the most dramatic stage of a Total Solar Eclipse. At this time, the Sky goes dark, temperatures fall drastically and birds and animals often go quiet.
4. Full eclipse ends (third contact): The Moon's shadow starts moving away and the Sun reappears.
5. Partial eclipse ends (fourth contact): The Moon stops overlapping the Sun's disc. The eclipse ends at this stage.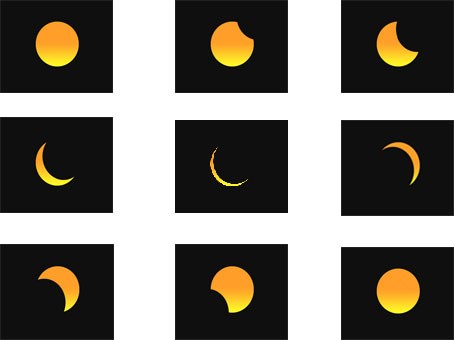 Solar Eclipse phases
The Moon's orbital path around the Earth is inclined at an angle of 5° to the Earth's orbital plane (ecliptic) around the Sun. The points where the 2 orbital planes meet are called lunar nodes. Solar eclipses occur only when a new Moon takes place near a lunar node.
Tips for viewing a Solar Eclipse
How to view a Solar Eclipse
-The only way to view the uneclipsed or partially eclipsed Sun safely is to project or filter the Sun's rays.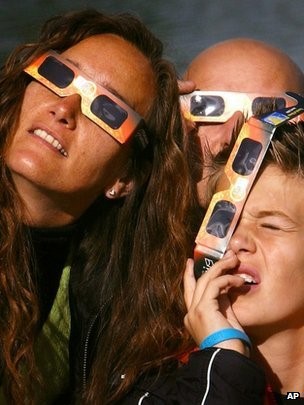 Safe ways to view the Solar Eclipse
Pinhole Projector - An easy and cheap way to view the Sun is to project its image to a screen, such as a sheet of white paper or cardboard.
Eclipse Glasses – Glasses that are made for viewing a solar eclipse. May be available in a space museum or anyone that sells it online.
How NOT to view a Solar Eclipse
Do NOT look directly at the sun ; it will burn your retina , the back part of the eye that contains the cells that respond to light. Therefore, looking at the eclipse of the sun will blind you.
Schools Across England Prepare for GCSE Changes
Reported by Victoria, Bethany and Rebecca
In September this year, teaching will begin for the new English Language, English Literature and Maths GCSE's with exams to be taken by the current Year 9s in the summer of 2017. All the other subjects will be converting to the new format a year later with coursework being scrapped for most of them.
The new English courses will be 100% exam and will be graded in numbers instead of letters, a system which Labour MP Kevin Brennan said was "a step back to the 1970's."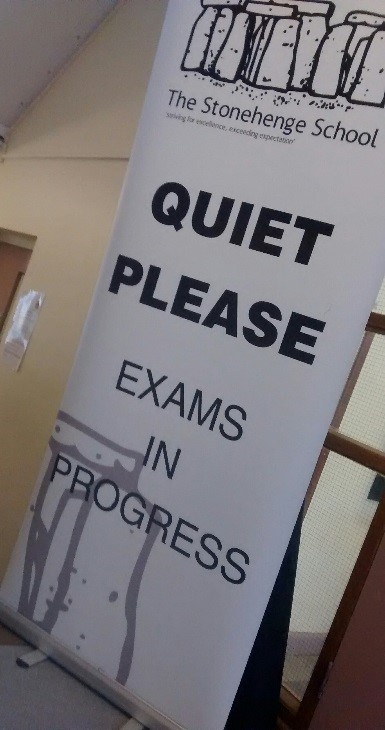 The Government has said that the old exam system "let down" young people and that "frequent testing meant that not enough time was spent on deep learning."
Ofqual have called this "the biggest shake-up of exams in England for a generation. It's a significant change for students and for schools."
The changes are only taking place in England. Wales is planning its own exam re-vamp and Northern Ireland are not changing anything at the moment, whereas Scotland has a completely different system altogether.
When we spoke to the Deputy Head of our school, Mr Ingram, he told us that the exams and courses would be "more challenging" with "more pressure on higher ability students to take Languages, triple Sciences, Geography and History." When asked his opinion on whether the changes were a step forward or a step back, he said "Step forward. I think if I said it was a step back that would be a bit defeatist. Some school leaders might say it's a step back but at the end of the day, they're the rules and we've got to get on with it. That's the way it is." We also asked some students what they thought. One told us she thought "it's just stupid" while another said "it would be a good challenge."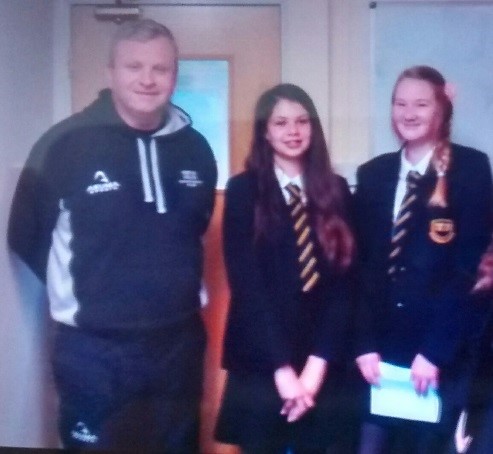 .
Teacher Baftas
Reported by Jasmine and Phoebe
The Teacher Baftas were made by the BBC School Reporters. There are seven categories: Funniest Teacher, Most Knowledgeable Teacher, Teacher with the Most Interesting Stories, Best Substitute Teacher, Best Dressed Teacher, Most Helpful in a Crisis, and Teacher with the Best Films.
Years 7, 8 and 9 have voted for their favourite teachers and we have added up the votes. We have given out certificates to the winners and got some quotations on how they feel about winning…
Continue reading to find out more about our Winners!
Funniest Teacher: Mr Edmunds
(He got 32 votes and was closely followed by Mr. Briggs)
Most Knowledgeable Teacher: Mr Busby
(He got 22 votes and won by 11 votes)
Best dressed teacher: Mrs Jackson
(She got 70 votes and was closely followed by Mr. Faulkner)
Most helpful in a crisis: Mr Briggs
(He got 70 points and was closely followed by Mrs Jackson)
Teacher with the most Interesting Stories: Miss Harris
(She got 21 votes and was closely followed by Miss Jackson)
Best Substitute teacher: Mr Stanford
(He got 122 votes which is the highest amount of votes)
Best films: Mr Cotterell
(He got 44 votes in a landslide win)
Thank you year 7, 8 and 9 for participating in the Teacher Baftas, we hope that you enjoyed this survey.
Self-expression in lessons?
Reported by Iona
A teacher has agreed to do a video interview for us on uniform. Mrs Cousens thinks we should look the same, but be allowed some differences. She said that when she was young she had to wear the same as all the other girls at her school and if she took her hat off she would be trouble, so she thought it was a good thing that we could be a little different to everyone else.
"Some say he knows a lot about cars, some also say that he's a racist buffoon, all we know is, he's Jeremy Clarkson and he has been suspended by the BBC!"
Reported by Joseph and Jordan.
Top Gear presenter Jeremy Clarkson has been suspended due to a "fracas" with a producer. Jeremy Clarkson arrived at a hotel after a day of filming for the show, and was told that he couldn't have a steak because the chef had left. He blamed a producer, allegedly calling him a "lazy Irish".
Clarkson will stand before a BBC disciplinary panel to determine whether he remains a Top Gear presenter.
As the internal investigation gets underway in earnest, the BBC has taken the decision to officially "postpone" the next two episodes, but at the time said that no decision had been made about the final show in the series.
The BBC will certainly feel the effect of suspending one of its most profitable programmes. The decision to pull Top Gear on Sunday night and replace it with a repeat of Red Arrows: Inside the Bubble pulled in just 1.3 million viewers.
Meanwhile, many of Top Gear's UK fans have are left bemused by the decision. We have had various interviews with school pupils who voiced these opinions: "It's an overreaction. It was food, so why punch him?"
"His punishment should be missing the series and then come back"
"Personally, I'm sad that Top Gear is not on for now; I miss it."
Clearly, many people want him back on the show. A petition, started by Guido Fawkes, named "bring back Jeremy" has reached over 970,000 signatures (as of 19/03/2015).
Why not bring him back and think of a different punishment, like a fine?
Amesbury Primary's £1,000,000 Build
Reported by Emily, Vicci, Dione, Sala and Emily
On 19th March 2015, some of the BBC School Reporters from The Stonehenge School went across to Amesbury Primary School to see what Elizabeth Cook, the Deputy Head Teacher, had to say about the new build in her school.
The new build was started last year in Easter, it was predicted it would be finished by Christmas 2014 but was not finished until February 2015. These classrooms were built because the number of students, especially from military families is increasing rapidly.
There are currently four classrooms, two year five and two year six classrooms. Also, there is a nurture room, which was made for children who struggle with fitting into class and school life. Many new facilities have been added to the school, and the children and teachers are really impressed by their new classrooms.
The Amesbury Primary School sign on the New Build.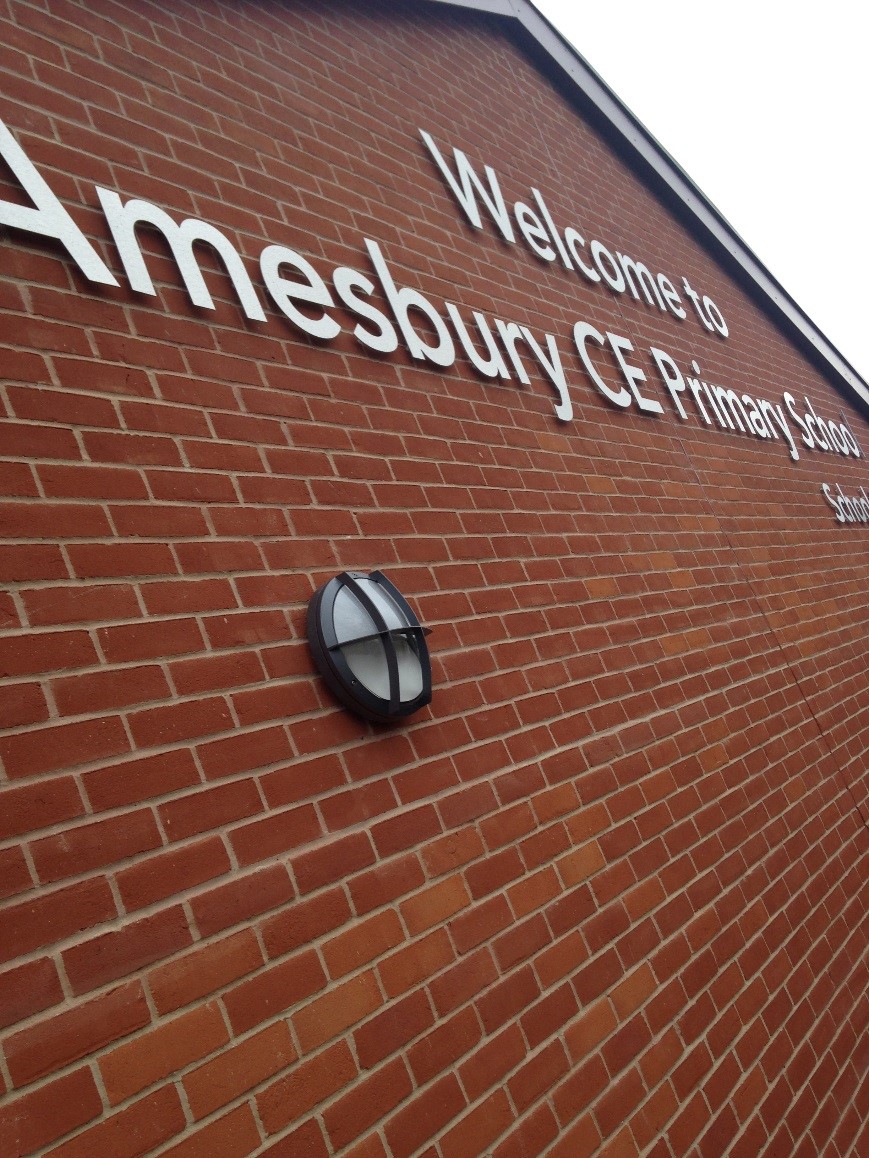 Photo taken by Dione.
The reporters also interviewed come children who are now taught in the new classrooms. Rachel, the Deputy Head Girl, said "I like the space and the under floor heating." Callum, the Head Boy thinks "They are far more up to date than our old ones." There are many new features that have been added to the new classrooms such as: An iboard touch, under floor heating, brighter colours on the walls and new technology. Students and teachers also contributed with picking the furniture and the students made a bird's eye view of the building.
Twitter Feed
Tweets by @Stonehenge_Sch